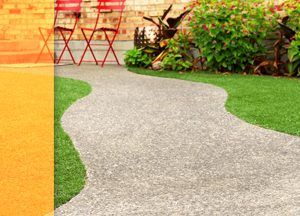 COMMERCIAL CONCRETE
Concrete is one of the strongest building materials around, and if you consider its ingredients (an aggregate, usually rocks, sand, or gravel, water, and cement, which holds it all together), it's hard to believe something so simple can last for centuries. We have the Romans to thank for this amazing building material, and now we can use concrete to create beautiful buildings for all to enjoy.
Commercial concrete can be used in every type of building that is not residential, from stadiums and gyms to government buildings, restaurants, grocery stores, and more. Oftentimes, we don't see concrete because it forms the foundations and the walls, which are then covered by drywall and other materials. Suffice it to say, commercial concrete is helping most buildings stand the test of time. Contact Trailer Haul Concrete and Rock for commercial concrete delivery today.

HIGHEST LEVEL OF SERVICE
Since 1962, we've consistently aimed our focus at providing the highest level of service to our local friends in the landscaping industry. Treating each with the respect and dedication they deserve, we cater to the specific needs of contractors.
We offer concrete delivery when you need it, so your building projects stay on-time and on-budget. We understand that you need concrete poured so it can have time to cure before the next phase in your building project. Our team works with you to deliver the right amount, so nothing is left lacking. When you need concrete delivery near Modesto, call our concrete supply company first.

YOUR CONCRETE SPECIALISTS
As specialists in concrete, we proudly offer value, service, and quality without fail. Your Trailer Haul Concrete and Rock team strives to act as your partners in concrete and landscaping. We proudly provide your commercial business, construction company, landscaping company, and custom home and commercial building company near Modesto with the following services:

GIVE US A CALL
Trailer Haul Concrete and Rock offers the best concrete delivered to your door. Concrete is indispensable to your building projects, from laying foundations to building walls, floors, fountains, statues, and more. Colored concrete adds spice to your buildings, variety, and splashes of color that can be art in themselves. This cost-effective building material can make your buildings strong, durable, beautiful, and timeless. If you are interested in our commercial concrete services, give our team a call today. Se habla Espanol.
Commercial Concrete and Landscape Supply