Some of the best landscaping designs combine hardscaping (decorative landscaping rocks and concrete) with softscaping materials (plants and shrubs). With so many different types of landscaping materials to choose from our landscape supply company in Ballico, choosing can be the hardest part. Trailer Haul Concrete and Rock can't wait to help you with all of your residential or commercial landscape supply needs. Below, we'll take a look at some interesting backyard landscaping projects for your Ballico home or business. Contact our landscape supply company to get started today!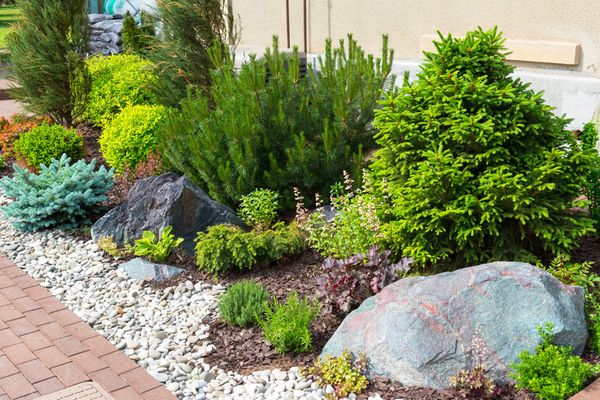 COOL LANDSCAPING DESIGNS FOR YOUR BALLICO HOME OR BUSINESS
A Rock Waterfall
The sound of waves and a babbling brook is known as white noise, which blocks out other sounds and its frequency is very relaxing. Thus, by adding in a beautiful water feature to your landscape, you can have a visual and a sonorous landscape design to wash away the stress and frustrations of your day. You can have rocks in the water and have it twist and turn too as it meanders around your yard. Many people love koi fish, so add in a pond at the end as well for animal life.
A Rock Garden
Rock gardens are gorgeous landscape elements to add to your Ballico backyard. Not only do they help prevent erosion, but the juxtaposition of rocks and plants makes for a feast for the eyes. They are very low maintenance and add texture and diversity to your landscape design. Plus, rock gardens foster a sense of peace, so they are another great landscape feature to add to your backyard to destress after a long day or week.

CHOOSE TRAILER HAUL CONCRETE AND ROCK TODAY
Trailer Haul Concrete and Rock offers the best landscaping materials for your backyard or office space in Ballico. Our team is dedicated to ensuring your needs are met. We can answer questions and deliver to your front door. We love helping our customers create beautiful spaces for them to enjoy. If you are interested in any of our landscaping materials, including soil, bark, gravel, sand, landscape boulders, or decorative landscaping rocks, or our concrete delivery services, reach out to us today!