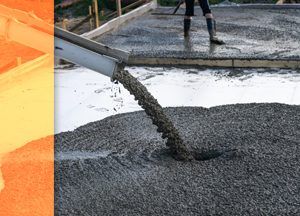 At Trailer Haul Concrete and Rock, we will literally go the extra mile for you. When it comes to delivering loads of ready-mix concrete, we rank among the very best in Modesto. We're known for our commitment to superior service, providing value, expediency, and personalized care to every one of our valued customers.
When it comes to selection, we create each batch of customized concrete with your specifications in mind at all times. After a consultative assessment of your project — we'll assist in determining the aggregate size and strength, if needed; help you choose from a variety of colors, if preferred; and decide on optional add-ons.
We've helped thousands of local homeowners and contractors pave countless square feet of driveways, walkways, foundations and patio slabs. With the ability to transport larger loads, we haul your concrete directly to the worksite. Our drivers and crews are highly trained and skilled and promise unquestionable professionalism at all times.

When it comes to the commercial sector, concrete is a powerhouse. Concrete provides a sturdy foundation for buildings as basic as a one-story office or as complex as a 40-story skyscraper.
There is no other material that can match the price, strength and customizable appearance of concrete. As you can see, there are plenty of reasons why concrete is so popular in commercial applications.
Ideal commercial applications:
Garage floors
Warehouses and showrooms
Restaurants and commercial kitchens
Locker rooms and showers
Medical and veterinary clinics
Stairs and pool decks

For homeowners, concrete is often used for new building foundations, but it is also used for many other reasons. For example, concrete is used to complete an outdoor grill, to install a driveway or to build a custom patio in the backyard.
You can also use concrete to build a pool deck, create an outdoor kitchen or build an attractive and strong retaining wall. There are also many ways in which concrete can be used in landscaping applications.
You might wonder how it is possible to use concrete in so many applications. It is because specialty ready mixes are available for multiple purposes. But what people love most about concrete is that it is completely customizable and affordable.
Concrete can be stamped in any pattern and given any kind of texture or color. In short, no other building material gives you so many options for such an affordable price.

Cement surfaces are non-porous, seamless and easy to clean and maintain. And as mentioned above, concrete is high performance and comes in unlimited colors, textures and graphic options. Concrete is an affordable and long-lasting solution.
Discover the difference by requesting a delivery estimate today. We promise a prompt, friendly response delivered by an industry professional. Se habla Espanol.