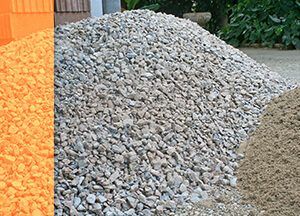 CONCRETE TO GO
You can have one of our trucks come to your location to pour concrete, or you can save money and time doing it yourself. We proudly offer cart away concrete for all of your ready-mix needs. Make your next project a smooth one, come on into Trailer Haul Concrete and Rock and take advantage of our concrete trailer services. We have exactly what you need to get your job done right the first time.

WE MIX – YOU HAUL
Catering to the needs of the DIY homeowner, our trailer services allow you to quickly pick up a small load of quality concrete and transport it from our site to yours. As specialists in concrete, we will meet your concrete needs in just 3 simple steps:
Drop by our Blue Gum Avenue location (just east of Carpenter Road) with a vehicle capable of hauling a loaded trailer.
We will hook you up to our trailer, load your concrete order, and get you on your way.
You take your load to the worksite, dump your concrete, and return the trailer.

ENJOY THE BENEFITS
No more back-breaking bags of sack concrete. Most people fail to realize that it requires over 40 bags of sack concrete to mix just one yard of concrete. And mixing it up in a wheelbarrow with a small mixer is very labor-intensive. Life is too short to have to endure that kind of labor. Save time, money and your back by renting one of our concrete trailers. There are other benefits as well:
Concrete trailers are fast
Concrete trailers are user-friendly
Concrete trailers are efficient
Concrete trailers are safe

TRAILERS FOR OTHER DIY PROJECTS
We also rent our durable trailers to those who need an easy way to haul rock, bark and other landscaping materials. When it comes to your DIY outdoor projects, we are the experts you can turn to in Modesto and the surrounding areas. Find out why we're the favorite concrete supply company in Modesto for homeowners and contractors by ordering your concrete today. Contact us to place an order or to learn more about our trailer-haul concrete solution for your next (and current) project. Not sure how much you need? Give us a call and we will guide you toward making the right choice.