Creating Pockets of Beauty Near You
We all need a place to escape, to find some solitude where we can just think and discover ourselves once again. People have different ideas of where to find this solitude that can be elusive at times, but for many, their place of solitude and peace is their front or backyard.
Trailer Haul Concrete and Rock offers landscaping materials, including landscaping rocks, for homes and businesses in Atwater. We also offer concrete delivery, U Haul concrete, and concrete parking stops. Our family-owned business has been serving the residents of Atwater since 1962. Our years of experience and dedication have helped us create the best customer service experience anywhere. Whether you are a DIYer or a commercial business looking to install a patio, we can help. Contact our landscape supply company to get started today!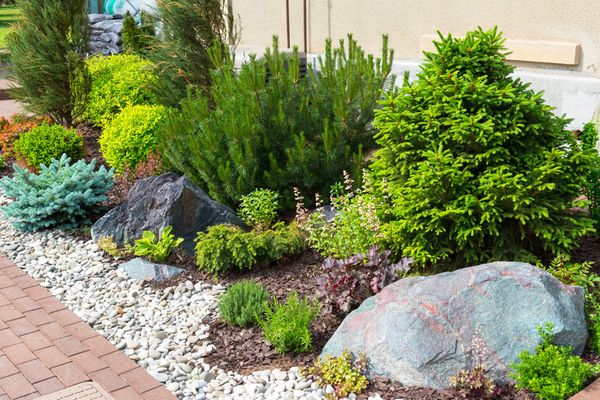 BENEFITS OF BACKYARD LANDSCAPING IN ATWATER
Creates habitats for animals
Helps keep your home and yard cool
Helps rid the air of pollutants and toxins
Helps get rid of carbon dioxide and replace it with oxygen
Helps reduce noise
Helps preserve topsoil
Helps reduce stress and blood pressure
Helps you to relax
Helps you to focus and improve memory
Helps improve your quality of life
And so much more!
Trailer Haul Concrete and Rock is proud to be a purveyor of exceptional quality landscaping rocks and materials in and near Atwater. Our team takes pride in delivering the landscaping materials you need to create a place of solace. Below, we'll take a look a bit more in-depth at the benefits of landscaping. Contact us for residential or commercial landscape supplies or concrete delivery in Atwater today!
WHY LANDSCAPE?
Improves the world around you. Let's face it, this world would be pretty boring without landscape rocks, flowers, trees, and more. They add much-needed color to our world, as well as fragrances and touch that we love. There's something about looking out your window at a well-manicured lawn and then retreating under your pergola to enjoy it.
Improves your health. Across the board, the consensus from studies and scientists is that being in nature can improve your quality of life tremendously. It can lower your heart rate, helping you to relax. Nature can reinvigorate your soul, inspiring you to be a better version of yourself today than you were yesterday. It can give you a sense of compassion when you see life and death in nature. And it can help you focus and perhaps be creative, coming up with the next biggest thing.

CHOOSE TRAILER HAUL CONCRETE AND ROCK FOR ALL YOUR LANDSCAPING ROCK IN ATWATER TODAY